Castlebrooke Tennis Center located at 4910 Piney Grove Drive Cumming GA. 30040



Adult Program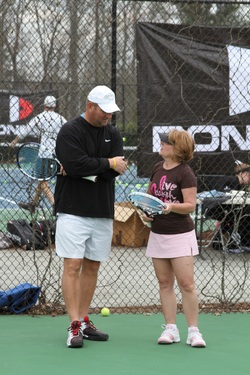 Drills on Monday Night
Monday 7:00 pm -8:30 pm All levels welcome. Join us for a high energy hour and a half of competitive drills. Bring plenty of water, there are not many breaks! This is a popular drills so RSVP each Monday afternoon to reserve your spot. Open to everyone. $20.00 per drill or buy the card and get 4 drills for $60.00


The Ladies Tennis Academy
Wednesday 10:00 am -12:00 pm every week. All levels welcome. Come out and join Player Development Coach Jim Harp and his staff for 2 hours of high intensity coaching. This program targets a specific tactic and technique each week to help take the ordinary player to extraordinary levels. Cost is $25.00 or buy the card for $80.00 and get your 4th drill free!


Special Events
During the year the tennis staff gets together to offer some super tennis events. Our past events include Grills, Drills and Thrills, Serious Tennis Demo Day, North Georgia College Pro Am, Ladies Doubles Championships, Mens Doubles Championships, Team Tennis Championships and many more. Please check the calendar for the next upcoming special event!
---
Monthly Round Robins

Friday night round robin. Every 3rd Friday of the month if weather allows and enough players RSVP. Players must register in advance for each event. Cost is $15.00 per person and $20.00 per couple and includes light snacks, drinks and tennis balls. Sign up for an upcoming event:

contact@harptennis.com

Teams

For a small community our program packs a big punch. No season seems complete without one of our teams traveling to the City Finals! We are growing more teams every year and we already have numerous teams at various levels and days. Please contact us for more information on which team and level is right for you! To help get acquainted with team members and captains please contact us at the address below.

jim@harptennis.com

Adult Performance Program

This is a special program designed to help you get the most out of your tennis game at a lower cost to you. By packaging up some of our most important clinics and lessons we can target our approach to your improvement based on your specific needs. Includes 1Video lesson, 4 drills and 1wrap up private lesson.

Cost is $200.00

Contact

jim@harptennis.com

for more information.